Air-pressure Plasma Processing Apparatus
This unit can process any rolled or sheet work.
The air-pressure plasma processing can even be implemented into existing lines with only a processing head.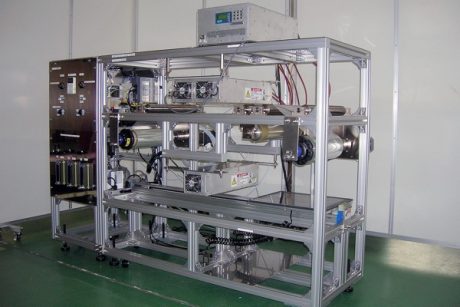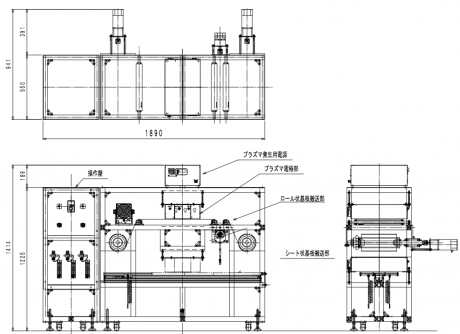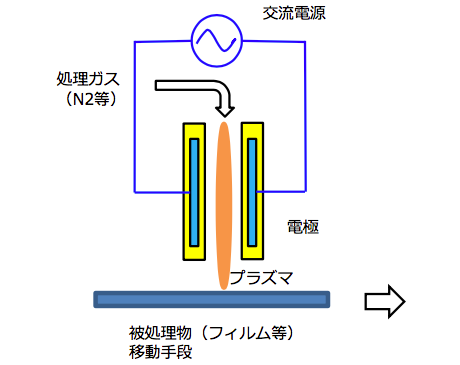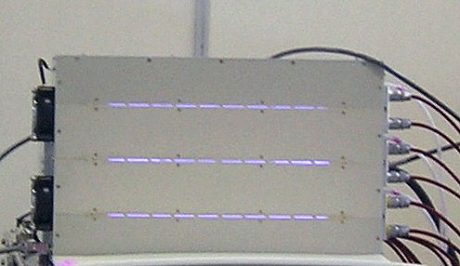 Features
The air-pressure plasma processing apparatus allows continuous roll-to-roll surface processing with film substrates.
This unit can also provide sheet-shaped work processing.
The processing head can be mounted easily in existing equipment due to the small size.
Specifications
Processing Method
Dielectric barrier discharge (remote plasma)
Substrate conveyor
Roll-to-roll (3-inch paper tube support; Maximum winding diameter: 150 mm; Feeding speed: 1-15 m/min)
Vacuum suction table (330 mm × 410 mm; Feeding speed: Up to 15 m/min)
Plasma Irradiation Rate
330 mm × 3 Lines
Power Source for Plasma Production
Input: 3-phase 200V; 50-60 Hz; Power Consumption: 1.5 kVA
Gas Injection System
Massflow controller (N2 standard; other gas options are available)
Operation System
Manual operation
Utility
Power source of operation panel: Single-phase 100V/500 W (Max.)
Air Pressure: 4 kgf/cm2 or higher (injection for vacuum suction table)
N2 gas MIN40SLM/line
Exhaust equipment is required depending on the type of gas to use and the operation conditions.
Processing Example